Gulf Professional Publishing released the book by Trevor Kletz called Still Going Wrong. The book deals with the Case histories of process plant disasters and how they could have been avoided.
About Trevor Kletz:
Trevor Kletz (1922-2013) is the author of Still Going Wrong. He was also the author of the book what went wrong? Kletz is a graduate in Chemistry. He joined ICI as a Research chemist and later he became Technical Safety Advisor. Still going wrong was published in 2003 which was his last book in his lifetime as sole author.
Still going wrong – A Readers Review
Nomenclature: In the beginning lines Kletz quoted about the nomenclature which is followed in US & UK. List of Engineering terms is given for both UK & US for common purpose. This will help the readers to understand about the systems discussed in the book and also to know about the industrial practices in various countries. For example in US it is stack, in UK it is called chimney.
Maintenance: The preparation for maintenance is an important task in Chemical Industries which involves lot of risk. Kletz gives case histories for isolation, dismantling, commissioning, dead end and other hidden hazards that may arise during maintenance of the equipment & piping.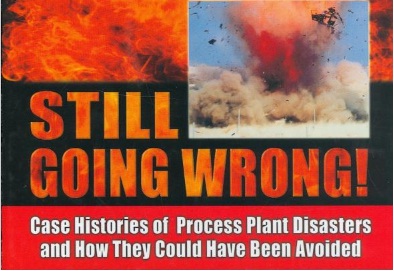 Entry into Confined Spaces: Kletz gave examples for incidents involving incomplete isolation, Hazardous material introduction, inadequate PPE and Poor atmosphere testing.   At the end of the chapter avoiding the need for entry in various jobs is depicted which is worth considering. This reminds the recent PETROBOT project by shell & EU for development of robot for online inspection in confined spaces.
Changes to Process Plants & in Organization:  Plant modifications and scaling up activity and equipment modification will also pose threat to chemical process safety; an interesting example in still going wrong is the Valve is insulated to save energy. This resulted in the expansion of bolts due to heat and explosive gas leaked to atmosphere and fire occurred. Even Insulation has got the power to destroy the plant! Changes in organization like multi skilling, de – manning and outsourcing also has got potential hazards which are to be addressed with care.
Changes in procedures instead of designs: Simple procedure changes instead of change in design was also resulted in untoward incidents and various examples were given given by Kletz.
Material of construction & Operating Methods: The selection of improper material of construction for various applications poses high risks of accidents. Erroneous Operating methods also cause incidents and discussed with case histories in still going wrong.
Still going wrong also discusses case histories associated with Explosions, Poor Communication, Inadequate training, Process control malfunctions, Leaks and Reactions. Accidents in Other Industries like coal mine, Marine facilities also gives us a picture on what not to do. Authors view on Accident investigation and tips for it also informative sections for process safety professionals.