Safety Videos are published by US Chemical Safety Board which is the Independent federal agency appointed by US President to investigate about the Industrial Chemical Accidents. CSB became operational from the year 1998.
Chemical Safety Board reaches the accident spot to identify the root cause of the incident. CSB team conducts interviews among the witnesses of the accident from various levels in the plant.
CSB prepares report including key findings, Root causes and recommendations. Based on the incident  the investigation may take six to twelve months to complete. Apart from identifying the root causes and recommendations, CSB also helps to review the safety regulatory systems like OSHA.
Safety Videos
CSB  completes the accident investigation in chemical process industry and publishes safety videos in their website. The safety videos are well animated which gives an outline of the incident, what are the root causes for the accident and what are the recommendations given to prevent it from occurring again.
The root causes of the accidents may be many like Not following standard Operating Procedure, Design Problems, Mis communication, Malfunction of Process Control Systems, No Awareness among the contract workmen, Inadequate safety systems etc. Each incident comes with lot of lessons to learn from it. US CSB probes the incident and identifies the root causes of the accident.
Few of the notable investigations carried out by US CSB includes Chevron Richmond Refinery Fire, Valero Refinery Propane Fire, Formosa Plastics Vinyl Chloride Explosion and BP America Refinery Explosion.
The book 'Still Going Wrong' by Trevor Kletz is a good read for those who learn from others mistakes.
Anatomy of Disaster – Must Watch Safety Video
Anatomy of a Disaster tells the story of one of the worst industrial accidents in U.S. history–the March 23, 2005, explosion at the BP refinery in Texas City, Texas, which killed 15 workers, injured 180 others, and caused billions of dollars in economic losses.
USCSB publishes the lessons learned from the incidents in Safety bulletin also. Some examples are Hazards of Nitrogen Asphyxiation, Seven Lessons from Hot Work Accidents and Dangers of Purging gas piping.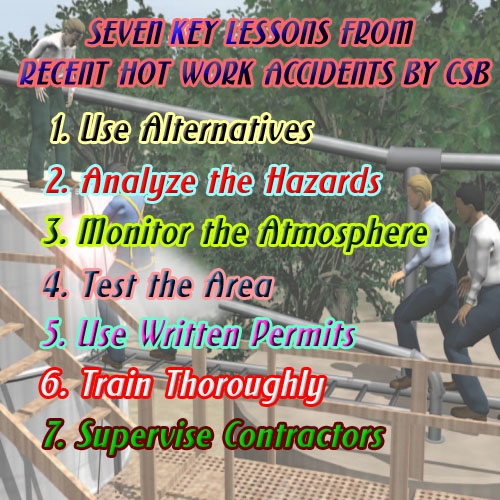 Recommendations are given to the respective industry, Occupational Safety and Health Administration (OSHA), other bodies like API, NPRA etc
All countries must appoint an investigation agency to probe industrial chemical accidents to create awareness among the industries, professionals and designers to avoid such incidents in the future.
Top 5 Safety Videos by USCSB
Here comes the most watched Safety Videos list from USCSB You tube Channel.
Inferno: Dust Explosion at Imperial Sugar
Deepwater Horizon Blowout Animation
Anatomy of a Disaster –  Explosion at the BP refinery
Animation of Fire at Chevron's Richmond Refinery
Explosion at BP Refinery
To Watch All Videos Visit USCSB's Youtube Channel