Chemical Plant Operating Manual is a guide for all the engineers who is involved in successfully operating the chemical plant. It is a responsibility of a process engineer working in Process Design field to bring out the better manual which helps the operating team in start up, shutdown, troubleshooting and optimization of chemical plant. Here is guidance for preparing a better Chemical plant operating manual.
The task of writing chemical plant manual categorized into two. One is for new plants and the other is for plants that already running. For old plants there are already established systems and procedures and for the modifications or revamps additional information has to be added, which is a simple task. But writing the operating manual for new chemical plant is a challenging task though already similar plants are running around the world. Let us will see how to write operation manual for new plants here.
Data Collection and Brainstorming
This is the preliminary task of a process engineer who is involved in preparation of Chemical Plant operation manual. PFD, P& ID, Control System, Process description from Technology provider, Equipment supplier manuals, HAZOP study recommendations, Details of legal/ regulatory requirements, Design Material & Heat balance of Process streams are to be collected before proceeding further. Then a brainstorming session is to be arranged with the colleagues/ superiors to discuss the various activities associated with the task and set Specific Measurable Attainable Relevant Time bound goal to bring up the better manual.
Contents of Chemical Plant Operating Manual
The content of a chemical plant operation manual is simplified into the following topics and the details may be added into appropriate section based on the specific requirements of the plant.
Abbreviations
Design Basis
Overview of the Process
Process Description
Procedures
Safety, Health & Environment Section
Utility and Other Systems
Appendix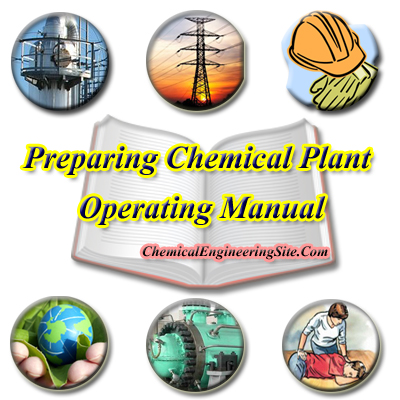 Abbreviations
Abbreviations used in the manual are to be consolidated and added in this section for better understanding for beginners.
Design Basis
Design basis of the plant including Plant Capacity, Technology used, Site Climatic Data, Raw Materials, Utility & Product Specifications forms this section in the chemical plant operation manual.
Overview of the Process
Overview of the Manufacturing process with the major equipments or sections involved in sequential manner to be described to get the overall understanding of the chemical plant. Process Flow Diagram (PFD) helps in preparing this section.
Process Description
The detailed process description with Equipments and Control valves associated including tag no's used with the design parameters and compositions at various streams in a sequential manner forms this section. Process control philosophy for various parameters in the plant like pressure, flow, level & temperature and description of various controllers and control loops available for the process control. Various Trips and Interlocks and reasons for having it along with Emergency Shutdown (ESD) system available in that section is elaborated. Piping & Instrumentation Diagram (P& ID) and Process description from Technology provider will be useful in bringing effective process description of units in the chemical plant.
Procedures
Standard operating Procedures for individual equipment and sections in plant for Normal Operation, Start up and Shutdown and then for total plant are to be established and produced in this section. Procedure for safe isolation of equipment for maintenance jobs shall also be included. This section shall also include Trouble shooting guide for various upsets. Routine schedule with incorporation of lubrication schedule, trial run of equipment, availability check of systems etc. Equipment supplier Manuals, HAZOP study recommendations will help the process engineer for preparing this important section of Chemical Plant Operating manual.
Safety, Health & Environment Section
Safety section provides overview of installed Safety Systems, Fire Fighting Facility and available safety procedures in the chemical plant. It also provides details on Zone classification, Emergency Actions, Hazards. Applicable Work permit systems related to plant like Hot Work, Confined Space Entry and procedure for issuing and authorizing the permits are to be listed for the entrants to understand the systems. Types of Personal Protective Equipment (PPE) available, issue and usage details are to be provided in this section and proper sign boards are also to be made available in plant premises.
Toxicological information of chemicals used in the manufacturing process is to be provided in the chemical plant operation manual. Chemical handling & storage and their first air measures also need to be listed for better understanding of chemical hazards.
Environment section of the Chemical Plant operation manual must contain industry specific disposal limits for various effluents generated in the plant and details on applicable laws & governing bodies.
Utility and Other Systems
Description of various other associated facilities in Chemical Plant like Water Treatment facility, Cooling Towers, Cooling Water system, Deaerators, Boiler & Steam System, Compressed Air System, Inert Gas generation & distribution systems, Effluent treatment facilities, Flare system, Electrical Power Distribution and ESD system is to be prepared and written under this section.
Appendix in Chemical Plant Operation Manual
This section contains the supporting information for better understanding of the Chemical plant operating manual. Normally it contains PFD, P& ID, Alarm & Trip set points, MSDS of Chemicals Handled, Equipment Data sheets & Curves, Further Reading – Vendor Document List etc.
Process engineer can add additional resources in this section based on specific need. One can also create his own structure based on the needs and prepare a better chemical plant operation manual.