CRU is pleased to host the 31st Nitrogen + Syngas conference in Gothenburg, Sweden.  As the global market moves into a state of oversupply, the event provides a crucial opportunity for the industry to meet, discuss and understand how technical and operational developments can enable producers to ensure safe, reliable and efficient production of nitrogen and syngas derivatives.
The 2018 conference provides participants with a comprehensive, content-rich agenda geared to maximise professional development throughout the four-day programme.  The agenda delivers one of the industry's most comprehensive technical events, covering the full nitrogen value chain from syngas generation through to finished fertilizers. The extensive dual-stream agenda showcases the latest technological developments to improve efficiency and compliance, and with case studies from operators and on health and safety, provides an excellent forum for engineers to share experience and develop solutions to common operational problems.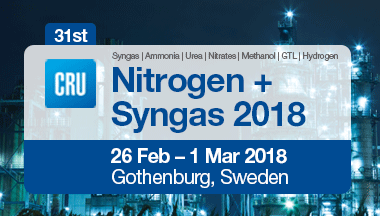 Who should attend:
With over 700 attendees regularly attending this annual industry gathering, CRU Nitrogen + Syngas is firmly established as a must-attend event for professionals across the nitrogen and syngas value chain to meet, learn and network.
Whether you are investing in a new plant, revamping an existing plant, or maintaining your plant to achieve optimal production, safety, and environmental performance. Make sure that you put the dates in your diary and join the other producers, licensors and service providers who will be attending Nitrogen + Syngas 2018 on 26 February – 1 March in Gothenburg.
Register Now:
Go to the CRU Nitrogen + Syngas site to register the details can be found here
Special operator rate: If you are a manager, engineer or operator in a nitrogen or syngas facility you could qualify for the operator rate. To apply for the over 50% reduced rate on the registration fee please email conferences@crugroup.com with your contact details, email, your name, job title/function, and company.
Chemical Engineering Site is a media partner for this event. We look forward to joining you at this event at Gothenburg, Sweden in February 2018.