The International Process Safety Conference (INPSC) is India's flagship multidisciplinary process industry event promoting innovative technologies and winning strategies in tackling the challenges of the global process safety industry. A global forum for governments, regulators, industry, academia and allied organizations to discuss, deliberate, share & learn the best of practices, technologies & experiences on tackling "Safety" the most important aspect of the process industry.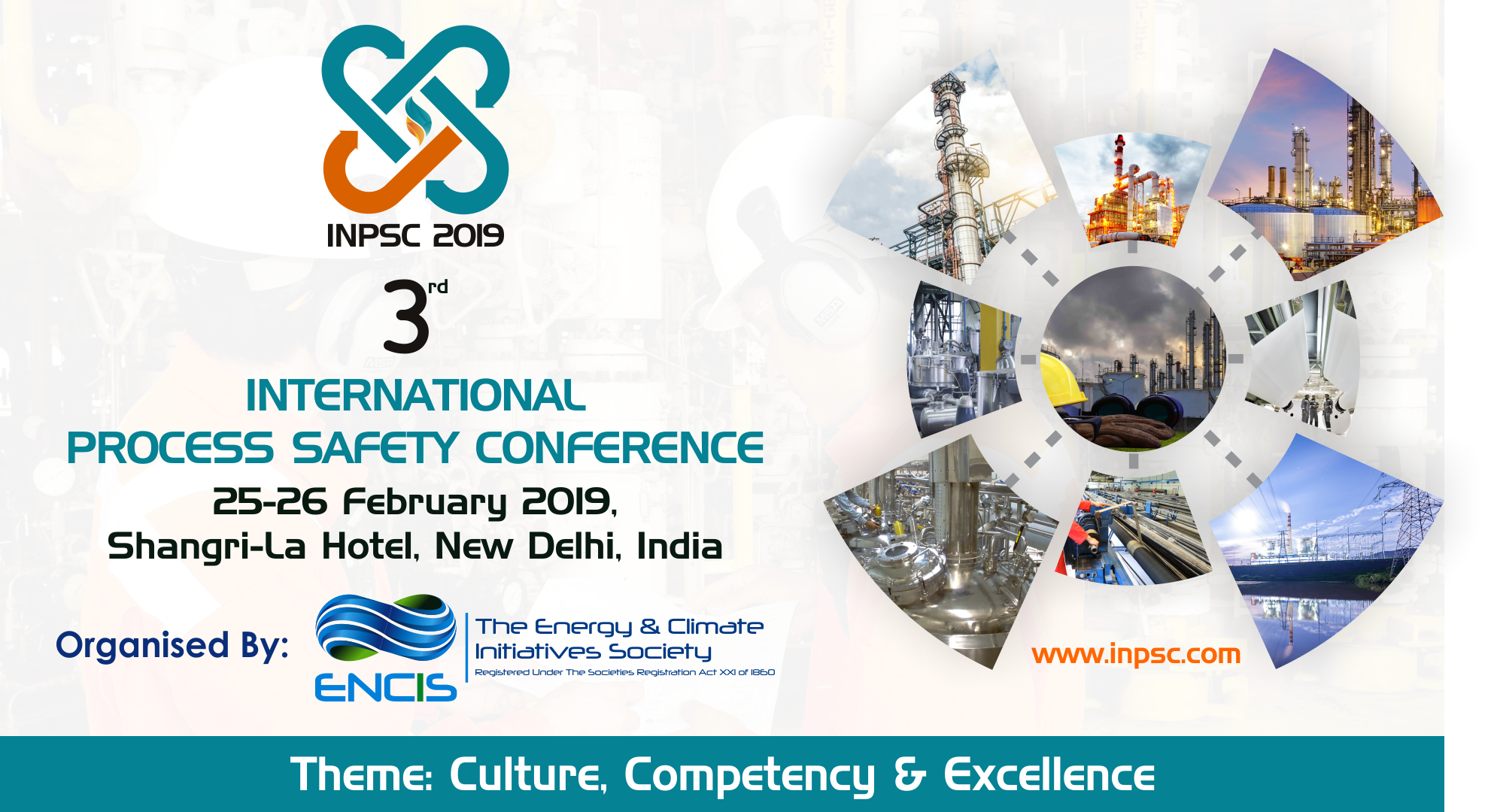 Attended by a diverse and eclectic mix of leaders & safety experts including Policy Makers, CEOs, Regulators & Technology Providers, delivering, Plenary & Keynote Addresses, Case Studies and breakthrough technology papers, INPSC facilitates the exchange of ideas and discussions on critical safety issues, while simultaneously meeting the strategic objectives of the process industries, making it the most important event for those involved in managing safety.
The 2018 edition of INPSC held during February 2018 at New Delhi, India showcased over 30 International Expert Speakers/Panelists, 200+ Delegates, 50+ global organizations from 10 countries under one roof. Global Attendees included CXOs & Safety Leaders from Government, Regulatory Agencies, Oil Producers, Refinery & Petrochemical Companies, EPC Contractors, and Process Technology/Equipment Suppliers etc.
Scheduled for 25-26 February 2019 at New Delhi, India, Theme of INPSC 2019 is "Culture, Competency & Excellence " designed to meet key strategic objectives on business critical issues whilst facilitating the development of more comprehensive safety systems, implementation of best global practices and engaging the executive leaders in catastrophic event prevention.
The concurrent exhibition would showcase global technology & equipment suppliers displaying the latest in equipment, technology, services & solutions for the process safety industry.
At a juncture where excellence in safety management is paramount, INPSC 2019 looks forward to synergizing with process industry stakeholders from across the globe, charting out strategic roadmaps for a safer future.
Chemical Engineering Site is a Media Partner for INPSC. To Register & More Details http://www.inpsc.com/