Chemical Engineering Magazine is written by engineers for engineers in Chemical Process Industry. It is published since 1902 by Access Intelligence. Chemical Engineering Magazine has got attractive things inside it which will be liked by all Chemical Engineers. Let's have a look now!
Chemenator is the column where recent research and developments in Chemical Engineering and associated fields are presented. Research study findings, Pilot plant study, process improvements are the main focus areas in this column. It helps the readers to update contemporary knowledge in Chemical Engineering field.
Chemical Engineering articles are categorized into four namely processing and Handling, Business & Economics, Environment, Health & Safety, Automation & Control and published. Cover story is elaborated article which details the nook and corner of the topic in various dimensions. Apart from the editors contributing editors from various Chemical Industry and Organizations also share the articles of greater use in Chemical Engineering Magazine. Business and Economics section also provides details on chemical plant cost index, mergers and acquisitions, expansion and new facilities etc.
Events and announcement section unveils Chemical Engineering related conferences details. It also has got place for who's who where top management changes in Chemical Industry are given.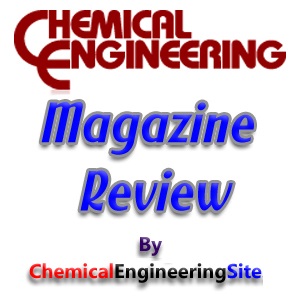 New Products and services page provides details and the availability of products and services related to chemical engineering which finds greater use by Industry professional.
Career tools is a division where articles on Presentation and communication skills, project planning, Opportunities for recent graduates, Book review professional development.
Facts at your finger steps section collects the data from various resources done on a specific topic and presented in this section.
Chemical Engineering Magazine Subscription
Chemical Engineering Magazine is available in digital media. For US users print version is also available. Subscription to chemical engineering magazine has got two options. One is Silver where only for current edition of the magazine can be accessed online. Gold option allows the subscribers to have access over 25 years of past achieves.  Back issues of the Chemical Engineering magazine can be accessed here
More Information
Website: www.chemengonline.com
Visit here for Chemical Engineering Magazine LinkedIn Group
Publisher: Michael Grossman
Editors: Dorothy Lozowski, Gerald Ondrey, Scott Jenkins, Mary Page Bailey