2017 is knocking the door. Some of you hope to settle in the new job in New Year. Searching for another job might have many reasons. Increasing the earning power, looking for better job title, gaining knowledge in the different domain, seeking for a challenging job, an annoying boss is the few most common reasons for a job change. Our Chemical Engineering Jobs Digest is an aggregate of jobs available in various locations, particularly for Chemical Engineers.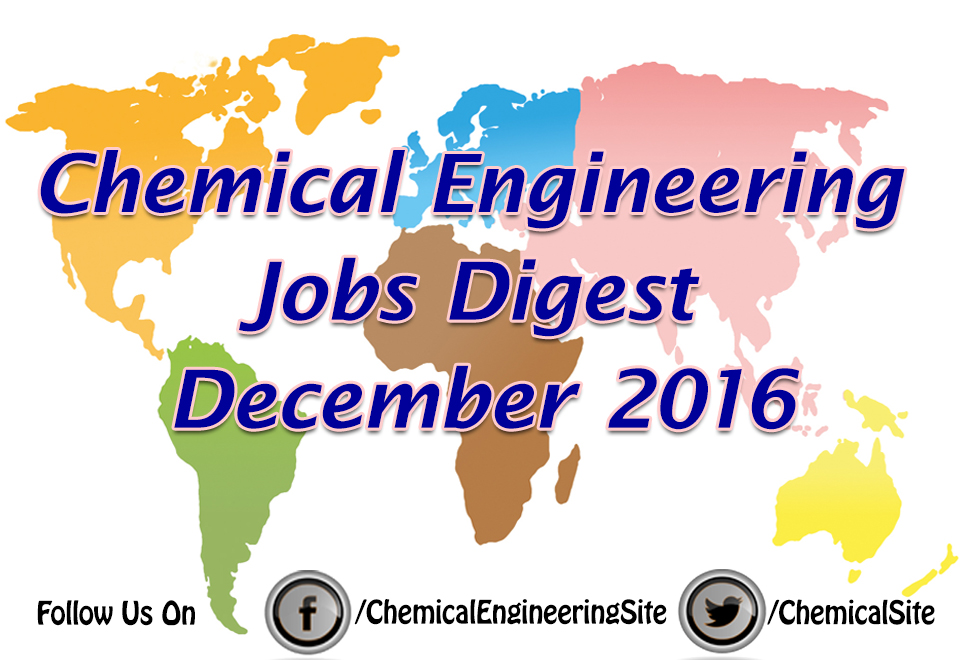 Take our Quiz to improve your chances of Success in Interviews 
Let 2017 signify new and better prospects for you  let's explore them in detail now. Follow our Chemical Engineering Jobs section for more.
POSITION
EXPERIENCE
ELIGIBILITY
COMPANY
LOCATION
SOURCE
Engineering Technology
Manager
07-10 Years
Bachelor's Degree in Chemical
Engineering
Johnson Matthey
Ravenna, United States
Click to Apply
Project/Process Engineer
03-05 Years
Bachelor's degree in Chemical Engineering
Johnson Matthey
New Jersey, United States

Click to Apply
Process Engineer
03+ Years
B.S. in Chemical Engineering
Johnson Matthey
New Jersey, United States

Click to Apply
Manager Project Engineering
-00016340

10+ Years
BS degree in Engineering in Chemical
Oxy
Texas, United States
Click to Apply
Process Engineer I-00016182

05+ Years
Bachelor's Degree in Chemical Engineering
Oxy
Tennessee, United States
Click to Apply
Production Operations Engineer-00016350

05+ Years
BS degree in Engineering; PE, ME, or ChemE
Oxy
Texas, United States
Click to Apply
Operations Officer

03+ Years
Degree in Chemical Engineering
Kochi Salem Pipeline Private Limited (BPCL-IOCl JV)
Kerala, India
Click for Details
Manager, Operations
10+ Years
Degree holder
Kochi Salem Pipeline Private Limited (BPCL-IOCl JV)
Kerala, India
Click for Details
Boiler Operation
Engineers examination - GOVERNMENT OF ANDHRA PRADESH

02+ Years
Degree in Chemical Engineering
Examination
Andra Pradesh, India
Click for Details
Junior Research Fellow
-
M.E/M.Tech in Chemical Engineering/
Polymer Technology/Polymer Engineering
National Institute of Technology Durgapur
West Bengal, India
Click for Details
Senior Research Fellowship
02 Years
M.Tech in Chemical Engineering
IIT Kharagpur
West Bengal, India
Click to Apply
Scientist
-
B.Tech/ M.E./ M.Tech in Metallurgical / Materials
/ Chemical Engineering
National Metallurgical Laboratory, Jamshedpur
Jharkhand, India
Click for Details
Senior Scientist

02 Years
Ph.D in Chemical Engineering
National Metallurgical Laboratory, Jamshedpur
Jharkhand, India
Click for Details
Assistant Professor - Chemical Engineering
-
Master's Degree in Chemical Engineering
University Institute of Chemical Technology, North Maharashtra University

Jalagon, India
Click for Details
Process Engineering - Section Head

10+ Years
Degree in Chemical Engineering
Shell Refining Company Berhad

Malaysia
Click to Apply
Trainee Officer - Production
0 Years
Bachelors in Engineering in Chemical
Cadila Healthcare Limited
Ankleshwar, India
Click to Apply
Fixed Term Research Associates
01 Year
M.Tech/ Ph.D in Chemical Engineering
Hindustan Petroleum Corporation Limited
Bengaluru, India
Click for Details
Fixed Term Project Assistants
-
BTech in Chemical Engineering /Petroleum Refining
Hindustan Petroleum Corporation Limited
Bengaluru, India
Click for Details
Director
10+ Years
Ph.D in Chemical Engineering/ Petroleum
Indian Institute of Petroleum & Energy
Visakhapatnam, India
Click for Details
Shift Incharge - Ammonia

09-15 Years
Chemical Engineering Graduate
Matix Fertilisers
West Bengal, India
Click to Apply
Shift Incharge - Urea

09-15 Years
Chemical Engineering Graduate
Matix Fertilisers
West Bengal, India
Click to Apply
Officer - R&D - Polymer

04-09 Years
Degree in Polymer Science/ Chemical Engg/ MSc (MANDATORY)

Exide Industries Limited
Kolkata, India
Click to Apply
Engineer- R & D

01-03 Years
B.Tech/B.E. - Chemical/ ME- Chemical
Aarti Industries ltd

Gujarat, India
Click to Apply
Professor/ Associate Professor/ Assistant Professor
03-10 Years
PhD in Chemical Engineering
Rajiv Gandhi Institute of Petroleum Technology
Uttar Pradesh, India
Click to Apply
Professor/ Associate Professor/ Assistant Professor - Standing Advertisement
03-10 Years
PhD in Chemical Engineering
Indian Institute of Technology Hyderabad
Hyderabad, India
Click to Apply
Environmental Engineer/ Asst. Manager to Dy. Manager Level

05-10 Years
B.Tech/B.E. - Environmental, Chemical
Sintex Industries Limited
Gujarat, India
Click to Apply
Production/development Assistant - Chemistry

02-03 Years
B.Sc - Chemistry, B.Tech/B.E. - Chemical
Cathodic Control Company Private Limtied

Bengaluru, India
Click to Apply
Sales Engineer
02-03 Years
B.Tech/B.E. - Chemical
Process Pumps India Private Limited

Bengaluru, India
Click to Apply
Factory Auditor / Chemical Management Background

02-06 Years
Degree in chemical engineering
Bureau Veritas Consumer Products Services (India) Pvt. Ltd.
Noida, India
Click to Apply
Shift Engineer/ Asst Manager/ Deputy Manager (Process)
08-14 Years
B.E. / B.Tech. in Chemical Engineering
Tamil Nadu Newsprint and Papers Limited
Karur, India
Click for Details
Process Data Engineer - F&E

02-06 Years
B.Tech/B.E. - Chemical
Shell India Markets Private Limited

Chennai, India
Click to Apply
Sr Process Data Engineer - F&E

05-07 Years
Degree in Chemical Engineering
Shell India Markets Private Limited

Chennai, India
Click to Apply
Deputy Manager-Chemical-E-2

04+ Years
Bachelor Degree in Chemical Engineering
Hindustan Copper Limited

Kolkata, India
Click for Details
Project Research Engineer (PRE)

02+ Years
BTech/BE - Chemical Engineering
INDIAN INSTITUTE OF TECHNOLOGY BOMBAY
Mumbai, India
Click for Details
Assistant Manager- Operations
05-08 Years
Degree/Diploma in Chemical Engineering
Stolt Nielsen India limited
Gujarat, India
Click to Apply
Plant Engineer - Sulphuric Acid Plant

03 - 05 yrs
Degree in Chemical Engineering
Taiko Bleaching Earth Sdn Bhd

Indonesia

Click to Apply
Shift Field Engineer on Fixed Term Basis

02-07 Years
B.E./ B. Tech (Chemical)
Reliance Industries Ltd

Jamnagar, India
Click to Apply
Process Engineering - Section Head

10 Years
Degree in Chemical Engineering
SHELL REFINING COMPANY (FEDERATION OF MALAYA) BHD

Malaysia
Click to Apply
Senior Manager - EHS

05 Years
Bachelor of Science in Chemical Engineering
GE Healthcare

China, India, Japan
Click to Apply
Engineer & Asst. Manager- Process Engineering
02-05 Years
B.Tech/B.E. - Chemical, Mechanical
Axtel Industries Limited
Vadodara, India
Click to Apply
Regional Manager - Additives
07-12 Years
B.Tech/B.E. - Chemical
Clariant
Chennai, India
Click to Apply
Process Engineering Manager

10+ Years
Degree in Chemical Engineering

Bayer
Gujarat, India
Click to Apply on LinkedIn
Senior Process Specialist

08+ Years
Graduate in Chemical Engineering (BE/B.Tech/ME/M.Tech)
FLSmidth

Chennai, India
Click to Apply
DH Production

15 Years
B.E. / B.Tech. in Chemical Engineering
Aditya Birla Group
Odisha, India
Click to Apply
Professor/ Associate Professor
04-10 Years
Ph. D in Chemical Engineering
VIT University
Vellore, India
Click for Details
Assistant Manager - Marketing - Sulphates

05-10 Years
B.Sc Chemistry or B.Tech Chemical Engineering with M.B.A. Marketing
Tanfac Industries Limited, Aditya Birla Group
Cuddalore, India
Click to Apply
Process Engineer

02-05 Years
BS Degree in Chemical Engineering

Birla Carbon, US Aditya Birla Group
Louisiana, United States
Click to Apply
Shift Engineer - JMD SEZ Crude (118281)
03-06 Years
Diploma / B.E./ B. Tech (Chemical)
Reliance Industries Limited
Gujarat, India
Click to Apply
Manager Technology Cracker (Dahej) (92631)
18 Years
Bachelor's or Master's Degree in Chemical Engineering
Reliance Industries Limited
Gujarat, India
Click to Apply
Mgr. Reg. Tech. Serv. - PSF Coimb (120782)
04-07 Years
B. E. / B. Tech in Chemical / Polymer / Textile
Reliance Industries Limited
Tamil Nadu, India
Click to Apply
Shift Super - J3 IIR (121809)
09-12 Years
B.E./ B. Tech (Chemical)
Reliance Industries Limited
Gujarat, India
Click to Apply
Manager Energy Management (Dahej) (107043)
09-12 Years
Bachelor's or Master's Degree in Chemical Engineering

Reliance Industries Limited
Gujarat, India
Click to Apply
Senior Engineer-process

15-26 Years
Bachelor of Technology/Engineering(Chemical)
Petrofac
Basra , Iraq
Click to Apply
Senior Process Engineer
13-18 Years
Bachelor of Technology/Engineering(Chemical)
SPIE Oil & Gas Services Middle East L.L.C.
Doha, Qatar
Click to Apply
Chemical Engineer

01 Year
Bachelor's degree in Chemical Engineering
Adtek Malaysia Sdn. Bhd
Selangor,
Malaysia
Click to Apply
Chemical Engineer

02 Years
Bachelor's degree in Chemical Engineering
Porosus Products Sdn. Bhd

Kedah, Malaysia
Click to Apply
Chemical Engineer

0 Years
Bachelor's degree in Chemical Engineering
Global Green Synergy Sdn Bhd

Kuala Lumpur, Malaysia
Click to Apply
Process Technician
00- 04 Years
BS Chemical Engineering
HOLCIM PHILIPPINES, INC.

Philippines
Click to Apply
Process Engineer 1

00-01 Year
Engineering in Chemical
Chiyoda Philippines Corporation

Philippines
Click to Apply
Process Engineer

00-01 Year
Engineering in Chemical
Zenkem, Inc.

Philippines
Click to Apply
Process Engineers or Chemist

00-01 Year
Engineering in Chemical
Rezcoat, Inc.

Philippines
Click to Apply
Process Engineer

00-01 Year
Engineering in Chemical
MHPS Technical Services Corporation (formerly MHI Technical Services Corp.)
Philippines
Click to Apply
Process Engineer

03+ Years
Engineering in Chemical
HGST Philippines Corp., a Western Digital Company
Philippines
Click to Apply
Line Quality Analyst

00-01 Year
Engineering in Chemical
Coca-Cola FEMSA Philippines, Inc.

Philippines
Click to Apply
Professional Officer (Chemical Engineering)
05+ Years
Degree in Chemical Engineering
Singapore Institute of Technology

Singapore
Click to Apply
Project Engineer (Various Positions)

01+ Year
Degree in Engineerin
Air Liquide Singapore Private Limited

Singapore
Click to Apply
PROCESS DESIGN ENGINEERS (26670BR)

05+ Years
Degree in Chemical Engineering
ExxonMobil Asia Pacific Pte. Ltd.

Singapore
Click to Apply
Chemical Engineer

01-03 Years
Bachelors - Chemical Engineer

United Detergents
Lahore, Pakistan

Click to Apply
Assistant Sales Manager

05+ Years
Bachelors
Hi Tech Plastics Engineering

Lahore, Pakistan

Click to Apply
Chemical Engineer

01-02 Years
BE in Chemical Engineering
Aqua Zone Water Treatment
Karachi, Pakistan

Click to Apply
Process Safety Specialist
10+ Years
Chemical engineering degree

Bechtel
Milano, Italy
Click to Apply
Principal Process Manager
20+ Years
BS Degree in Chemical Engineering
Bechtel
Texas, United States
Click to Apply
Process Safety Engineer (UK)
2017 Graduate
Chemical Engineering
Bechtel
London, United Kingdom
Click to Apply
Lead Process Engineer – Chemical - Brownfield Projects (Agency) - MAN005V
-
Degree (or equivalent) in Chemical Engineering
WorleyParsons
Manchester, United Kingdom
Click to Apply
Commissioning Engineer - RAS000M

08+ Years
BSc., University degree in Chemical Engineering or equivalent
WorleyParsons
Ras Laffan, Qatar
Click to Apply
Facilities engineer (process engineer)

03+ Years
Bachelor's degree in chemical engineering
Chevron
Bangkok, Thailand
Click to Apply
Manager - Operations
Reference ID : 2878BR
10+ Years
M.S./B.S. Degree in Chemical Engineering
Total
North America, Unites States
Click to Apply
Process Technology Engineer (M/F)
Reference ID : 4963BR
00-03 Years
University Degree in Engineering (by preference Chemical Engineering)
Total
Belgique, Europe
Click to Apply
Wanna Get our Chemical Engineering Jobs Digest in your Mail Inbox? Subscribe here